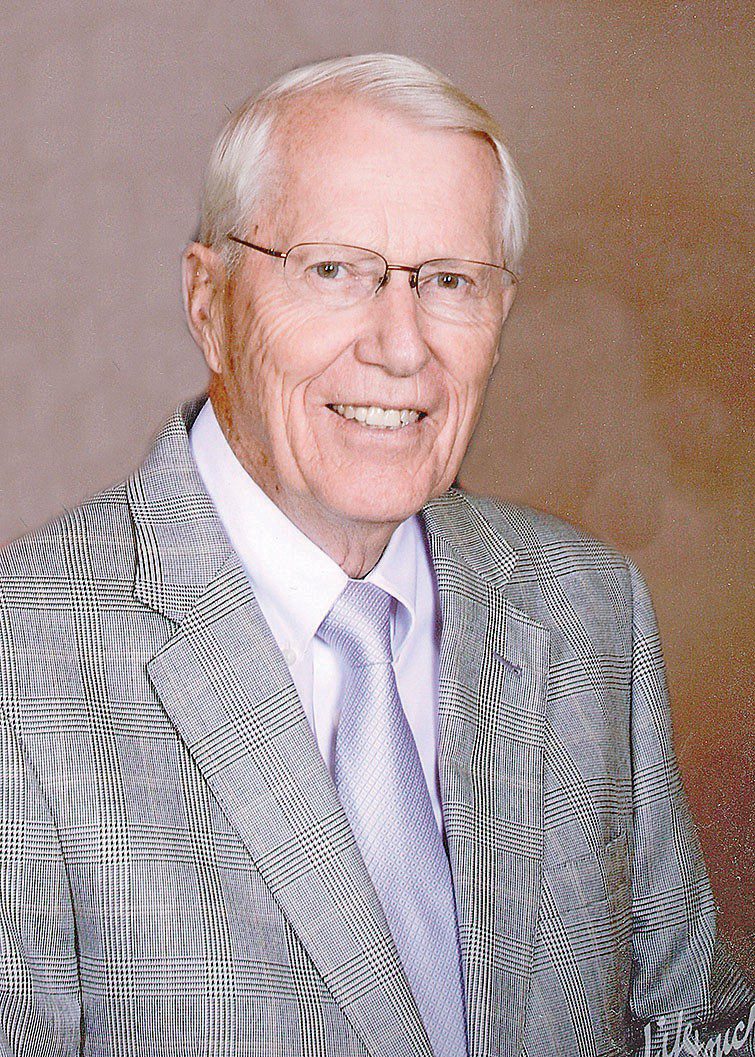 Philip J. Vander Ploeg
August 27, 2019
Philip J. Vander Ploeg, age 83, of Okoboji, Iowa, and formerly of Sheldon, passed away on Tuesday, August 27, 2019, at his home in Okoboji. His Funeral Service was Friday, August 30, 2019, at First Lutheran Church in Milford, with Rev. Perry Aalgaard and the Rev. Brian Jack officiating.
Burial with a graveside service was Friday, August 30, at the East Lawn Cemetery in Sheldon, with Military Flag Presentation by the McGlothen-Cowie Post of the American Legion #145 of Sheldon.
The Vander Ploeg Funeral Home in Sheldon assisted the family with the arrangements. Online condolences may be sent to www.vanderploegfunerals.com.
  Philip James Vander Ploeg was born January 22, 1936, in LeMars, Iowa, to James and Janette (Rons) Vander Ploeg. He spent the first 8 years in Rock Valley, Iowa, then moved to Sheldon, Iowa, and graduated from Sheldon High School in 1954. On April 21, 1957, he was united in marriage to Joann (Jody) Syverson in Sioux Falls, moving to Sheldon and raising their family. In 2000, Jody and Phil moved to Okoboji, Iowa, also wintering in Mesa, Arizona for the past 27 years. Phil attended T.C.U., and graduated from Gupton Jones Mortuary School in 1961, working with his father and eventually, he and Jody owned and operated Vander Ploeg Funeral Home until 1992. Phil is a U.S. Navy veteran and member of the American Legion Post #145 of Sheldon.
He was active in many things, and served as president or member on the board of numerous organizations, including: St. Paul Lutheran Church-Sheldon, Luther League sponsor, Sheldon Lions Club, Meals on Wheels, Sheldon Airport Commission, Chamber of Commerce, several Country Clubs, All Class Reunion- 25 years, Billiards Club & Beautification Committee Carriage Manor Resort.
Phil loved sports, especially golf, where he won numerous golf tournaments including: Sioux City Interstate- twice, Cherokee Match Play- twice, New Ulm Invitational- twice, Sheldon Tri-State- several times. For 50 years, Phil has held the Sheldon CC course record of 29, shot in 1969.
Phil is survived by his wife, Jody; son, Jim (Lynae)Vander Ploeg- San Diego, CA; daughter, Julie (Dale) Elgersma- Primghar, IA; son, Mark (Laura) Vander Ploeg- Maple Grove, MN; 8 grandchildren: Kari (Elliot) Ostercamp- Brandon, SD; Kristin (Joe) Bosman- Harrisburg, SD; Kendra (Matt) Vander Lee- Sanborn, IA; Kim (Bryan) Vyhlidal- Harrisburg, SD; Lyle (Jenna) Vander Ploeg- Brooklyn Center, MN; Elly (Josh) Kiemel- Avon, IN; Heidi (Tyler) Daniels- Andover, MN; Nolan (Brooke) Vander Ploeg- Orlando, FL, and 12 great-grandchildren: Emmet, Ty and Tate Ostercamp, Austin, Makenzie and Madelyn Bosman, Kylah and Kinley Vander Lee, Owen, Jade, and Lakyn Vyhlidal, and Maelyn Vander Ploeg; sister, Leah (Ben) Rohwer, Sanborn, Iowa; and many beloved nieces and nephews. 
He was preceded in death by his parents and an infant son, Mark Steven.
Al's love of music and support of the Spirit Lake schools continued through the years. He played drums in the Spirit Lake City Band and for many community events, facilitated the purchase of new high school band uniforms in the 1960s, helped co-chair successful bond issues for a new elementary and middle school, and was an active band parent. In 1979 his wife Sheila and he were honored as co-chairs of the Spirit Lake Centennial Pageant, and he was later chosen Grand Marshall of the Spirit Lake Homecoming Parade. Al was always supportive of his children's activities and his family's community involvement.
Al's family will fondly remember his drumming to the music with his two rings on the steering wheel as they drove to vacation destinations. A catastrophe or a surprise occurred on nearly every trip – from being in an Old Faithful Lodge cabin during the 1959 earthquake in Yellowstone National Park to being trapped hundreds of feet below ground-level in a gold mine in Colorado during an electrical storm to watching it snow in New Orleans, Louisiana, during Christmas. In retirement, Al and Sheila had the good fortune to travel to many interesting places. They were at the top of Mt. Pilatus in Switzerland when they learned of the 911 catastrophe back home. Al also enjoyed fifty years of duck hunting trips to Canada with several of his close friends. 
Al is survived by his wife of seventy-one years Sheila and six children: Sheryl (Henry) Hall of Spirit Lake; Alfred L. Klein, Jr., of Sherburn, Minnesota; Deborah (Dr. Kenneth) Thompson of Emporia, Kansas; Barbara (Dennis) Mochal of Stilwell, Kansas; Cara Klein (Mike Scalcucci) of Bradenton, Florida; and Dr. Trisha Werner (Paul Ysebaert) of Sarasota, Florida. He is also survived by grandchildren Abbi (Larry) Wajda of Spirit Lake; Libby (Ryan) Pfeiffer of Prairie Village, Kansas; Alfred L. Klein III of St. Paul, Minnesota; Tyler (Cassie) Thompson of Fairway, Kansas; Dylan (Audrey) Mochal of Shawnee, Kansas; Shayla Mochal of Madison, Wisconsin; Shelby Mochal of Madison, Wisconsin; and Emma Derbyshire of Sarasota, Florida; twelve great grandchildren; nephew Richard B. Klein of Lakewood, Colorado; and sister-in-law Sonya Blinkinsop of Colorado Springs, Colorado. He was preceded in death by his parents, his brother, and a grandson Seth Thompson.
In lieu of flowers memorials may be directed to the Spirit Lake Noon Kiwanis Club, East Okoboji Lakes Improvement Corporation, or St. Alban's Episcopal Church.