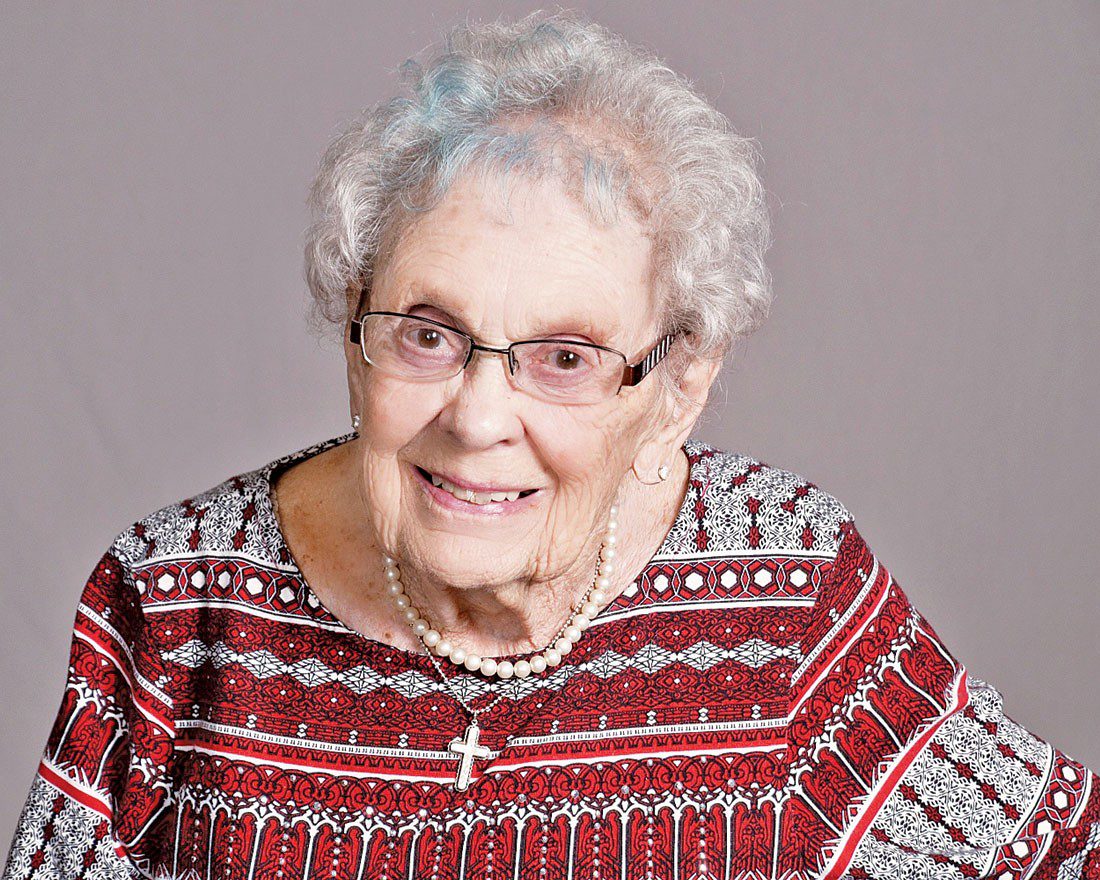 Mary Cornell
June 5, 2019
A funeral service for Mary Cornell, age 95, of Spirit Lake, will be held Friday, June 14, 2019, at 11:00a.m. at the First Presbyterian Church in Spirit Lake. Burial will be at Spirit Lake Memorial Gardens Cemetery. Visitation will be on Thursday, June 13, from 5:00-7:00p.m., at Turner Jenness Funeral Home in Spirit Lake.
  Mary never shied away from anyone that she encountered and usually left those conversations with the conclusion that she had just met a new best friend. Her 95 years of life committed to loving her neighbors came to a close Wednesday, June 5, 2019. 
  Mary was born August 23, 1923, in Chicago, Illinois, to George Penrose Meacham and Leona Magdalen Losselyong. She spent her first seven years in Chicago with her parents until her mother prayerfully committed her upbringing to her grandparents in Glen Ellyn, a Chicago suburb. Mary was raised by her loving grandparents and parents. In 1966, Mary's mother (Grammy to us) moved to Spirit Lake and they shared thirty years of a close mother/daughter relationship.
  Mary graduated from Glenbard High School in 1941 and went on to study English, romance languages, and social studies at Coe College in Cedar Rapids, Iowa. While at Coe she pledged Alpha Gamma Delta sorority and later met the love of her life and future husband, Robert R. Cornell.
  After Bob graduated, he enlisted in the Navy and entered Officers Training School in Florida. Mary dropped out of college to be with him, and on May 27, 1944, they were married in Miami. When Bob shipped out to the Pacific theatre in World War II, Mary returned to Coe and graduated in 1945. After the war ended, Bob and Mary moved to his hometown, Spirit Lake, Iowa. 
  Living in Spirit Lake, a town with a population of about 2,300, required a major adjustment for a big city Chicago girl, then a city of about 3,300,000. It took some time for Mary to adjust to small town life but when she discovered it was possible to "know" everyone in town she learned to love it and became one of Spirit Lake's biggest cheerleaders.
  She was involved with countless lifelong social activities, some of her favorites being P.E.O., LBU, DAR, and Mayflower Society. She also had a special fondness for community arts through the Okoboji Summer Theatre and the Lakes Art Center.
  Mary was a 70+ year member of Spirit Lake First Presbyterian Church, serving in numerous leadership and service roles over the years. In 1975, Bob and Mary took their faith in Christ to a new level recommitting their whole lives to Christ. This commitment led them on ten mission trips with Campus Crusade for Christ, two to Russia and eight to Jamaica. That strong faith served her well to the very end of her life.
  Their marriage yielded three daughters and a son and kept Mary busy raising the family and filling her time with many social and community activities. When the girls were in college, Mary began her 3 and a half year teaching career as a high school English teacher, ending that career in 1968. 
  Mary's greatest calling in life was her deep devotion to family and her commitment to maintaining a loving environment as she passed on that same dedication to her children. Left to cherish her memory are her three daughters; Carolyn (Dave) Butterworth of Spirit Lake; Christine Cornell of Appleton, Wisconsin; Cathalee (Bob) Nielsen of Olathe, Colorado; her daughter-in-law Dee Cornell; and her sister-in-law Jane Cornell Handell. During the fall and winter of her life, Mary was devoted to and found great joy in her eleven grandchildren and twenty-one great-grandchildren.
  She was preceded in death by her parents, her husband, Robert R. Cornell, and her son, Robert M. Cornell. 
  Perhaps Mary's greatest legacy is that she loved others and found many ways to connect with people. Mary was unable to do everything that she would have liked to do in her later years, but she continued to travel to events by walker, wheel chair, Rides bus, or anyone else whom she freely asked. She always said that if she could not go to the Summer Theatre she would "just die." Mary had already purchased tickets for her "reserved" seats for the 2019 Summer Theatre. Mary had to give up some things she loved doing, but she refused to give up the things that she cherished. She finished strong and she finished well.
  Memorials may be left in Mary's name to Spirit Lake First Presbyterian Mission Committee, the Okoboji Summer Theatre, or the University of Okoboji Foundation.
Turner Jenness Funeral Home is in charge of arrangements.