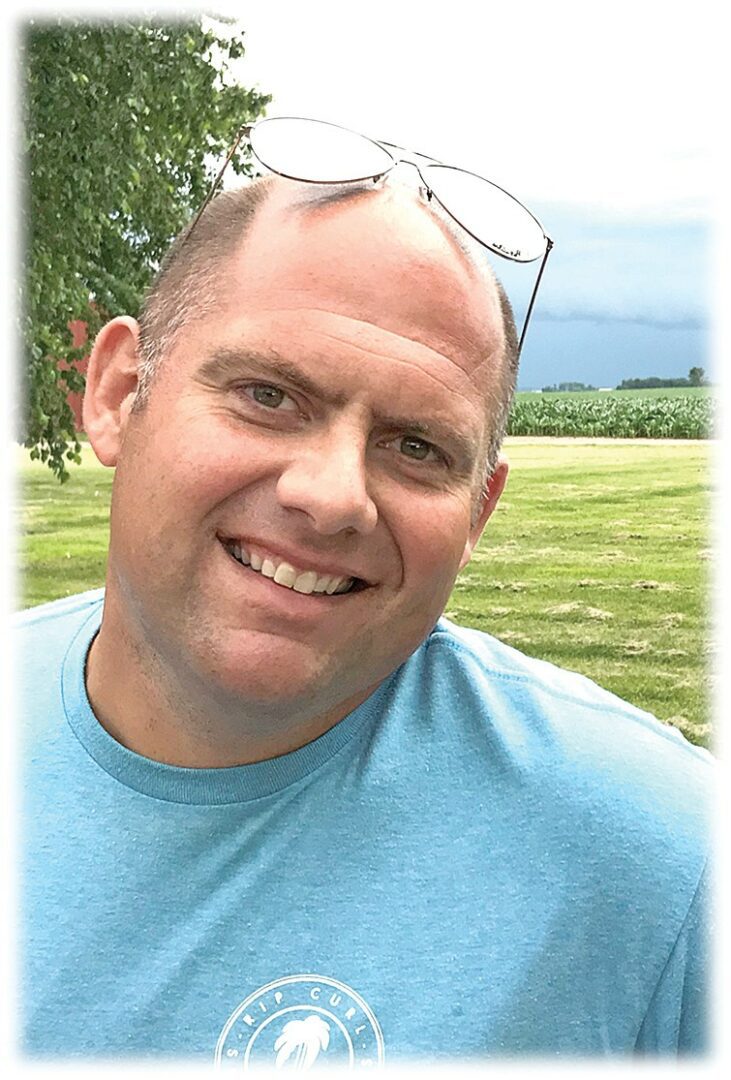 Luke Bryan Rouse
June 26, 2018
Luke Bryan Rouse was born on May 13, 1982. He was the first child of his proud parents, Rich and Sue Rouse. Luke was baptized and confirmed at the United Methodist Church in Mallard, Iowa. 
Luke was raised on a farm near Ayrshire, Iowa. The farm quickly became Luke's way of life. As a young boy he loved playing in the dirt, helping Dad and Grandpa on the farm with cattle, and driving anything that had a steering wheel. When Luke entered preschool the color green did not exist; it was simply called John Deere. As he grew up, he became an active member in the Ayrshire Beavers 4-H Club. He showed cattle at the local county fair and many shows throughout Iowa.
Luke was three years old when he became a big brother to his twin sisters, Amy and Sara. Luke's big brother role evolved from referring to them as "Bert and Ernie" to teaching them how to use a pitch fork to showing them how to enjoy life while mostly staying out of trouble. Every girl needs a big brother!
Luke attended Emmetsburg Community Schools, graduating in 2000. Luke always excelled in academics. Luke became active in FFA, enjoying soil judging and being chapter president his senior year. Playing football became a significant part of Luke's high school journey. Throughout life, Luke had a very large, charismatic personality and enjoyed making new friends, but he maintained his friendships that he began in school. Luke cherished his life-long friendships.
After graduating from high school Luke moved to Cedar Falls, Iowa, to continue his education at the University of Northern Iowa. He earned his degree while being quite social. Luke graduated from the University of Northern Iowa in 2004 with a degree in Business Management.
While living in Cedar Falls, he met the love of his life, Lacey. Luke and Lacey were wed November 10, 2007. They moved back to Ayrshire, where farming became their way of life. Shortly thereafter, their growing family purchased the Emmetsburg homestead where Luke grew up. Luke truly put family first and had recently chosen this quote to describe his family: "The best crop you will ever raise will be your children and grandchildren." Luke and Lacey had a relationship like no other. They were best friends. Luke and Lacey "grew" their family to include three amazing, energetic children: Makayla, Ally, and Hank. He adored them, and they adored him.
Luke joined his Dad in the farming operation when he moved back to Ayrshire with Lacey. This allowed Luke to combine two of his passions: farming and business. Anyone who worked with Luke could easily see that he made no quick business decisions. He was a perfectionist who enjoyed a challenge and put hard work into everything he did. Despite working together all day, Luke and Rich still managed to find more than an earful to talk about after the work day was done.
His best days were spent running the combine, being at Lake Okoboji, making breakfast for his kids, and spending time with his family.
Luke died on Tuesday, June 26, 2018, at the age of 36. Even in death, Luke contributed to the lives of others by being an organ donor. He was preceded in death by his grandparents Don Hurley, Harley Rouse, and Elaine Rouse.
Left to cherish his memory are his wife Lacey; their children Makayla (9), Ally (7), and Hank (4); his parents Rich and Sue Rouse of Emmetsburg; his sisters Amy (Jacob) Stewart of Alta and Sara (Dave) Grove of Panora; Lacey's parents Pam and Jerry Albert of LaPorte City; Lacey's brother Mitchell Albert of Ankeny; Lacey's sisters Nickie Fuller of Cedar Rapids, Angie (Jim) Jackson of Cedar Rapids, and Tonia (Nate) Reel of LaPorte City; nieces and nephews Marie, Kaylin, Norah, Gracie, Leo, Carson, Dylan, Ava, Kelsey, Mariah, Haylea, Jasmine, Ashley, Shawn, Hunter, Caleb, and Devin; Luke's grandmas Ann Hurley of Emmetsburg and Colleen Rouse of Spencer; numerous aunts, uncles, and cousins; as well as many other relatives and friends.
Arrangements by Martin-Mattice Funeral Home martinmatticefuneralhome.com