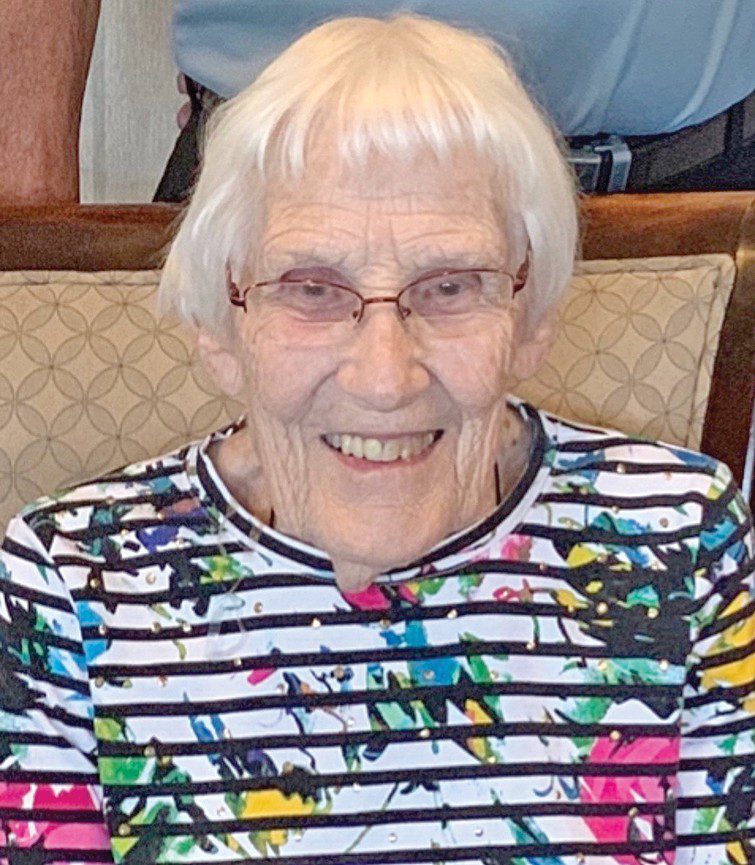 Kathryn Marie Hansen
December 26, 2019
A funeral service for Kathryn Hansen, age 95, mother of Nancy, Gary and Kenneth, was held Monday, December 30, 2019, at Harbor of Joy Lutheran Church in Milford. Burial was at Milford Cemetery.
Kathryn Marie Hansen was born September 7, 1924, in Spencer, Iowa, the daughter of Kenneth and Avis Marie (Richards) Martin. Her mother passed away a short time later, in 1925. Kenneth was then united in marriage to Hazelle Georgia Waldron, whom Kathryn considered her mother. Kate was raised south of Spencer until moving to a farm southwest of Milford when she was five. In her youth, she was active in 4-H, exhibiting projects and demonstrations at the Dickinson County Fair.
Upon graduating from Okoboji Consolidated School in rural Milford, Kate attended Iowa State Teachers College (now the University of Northern Iowa), where she earned a teachers certificate. She taught at Westport Township School for a year and then taught at Okoboji Consolidated School for a year.
Kathryn was united in marriage to Verne LeRoy Hansen on December 26, 1945. The couple made their home in rural Milford, where they farmed and raised their children. Kate served as a 4-H Leader for several years and served a short time on the Extension Council. She encouraged her children to be actively involved as well. She loved gardening, canning, crafts, and especially sewing projects. Later, when Verne and Kate moved to Wahpeton, she enjoyed Bible Studies at Okoboji Lutheran Bible Camp. Kathryn especially enjoyed special times with the grandchildren where they would make crafts, go for walks and play games. Her great grandchildren were a special part of her life, and she loved to watch them grow. Kathryn and Verne spent many winters at Tropic Star Park in Pharr, Texas, where they enjoyed square dancing and bowling.
Kathryn passed away Thursday, December 26, 2019, on her 74th wedding anniversary, at Spencer Hospital, at ninety-five years of age.
She was preceded in death by her parents, Avis, Kenneth and Hazelle, an infant grandson, Corey Hansen, and daughter-in-law, Shirley Hansen.
She is survived by her husband of seventy-four years, Verne; children, Nancy Zink (Charles) of Brookings, South Dakota; Gary Hansen of Spirit Lake, and Kenneth Hansen (Julie) of Milford; grandchildren, Tamara Even (Todd), Pamela Crain (Jeff), Melanie Lunn (Cory), Jennifer Ryker (Jacob), Jamie Nalos (Sheldon), Brian Hansen (Rebecca) and Kristin Dennis (Jonathan); twenty-two great grandchildren; nieces, nephews and friends.
Turner Jenness Funeral Home is in charge of arrangements.