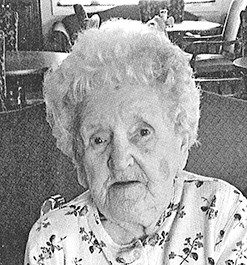 Johannah Crist
July 5, 2018
Johannah Crist, age 91 of Sibley, Iowa, died Thursday, July 5, 2018, at Sibley Specialty Care in Sibley.
Memorial service was Tuesday, July 10, 2018, at United Methodist Church in Harris, with Pastor Emmanuel T. Naweji officiating. 
Visitation was Monday, July 9th, at the United Methodist Church in Harris.
Johannah Elizabeth Crist was born on September 22, 1926, in Liverpool, England, the daughter of Arthur and Lily (Brennan) Hayes. Siblings of hers included, Peggy, Sheila, Betty and John. Johannah attended Catholic school until age 15, when she was taken out of school (like most this age) to work in the war factories. On May 12, 1945, she was united in marriage to Robert D. Crist while he was stationed in the Army in England. Johannah came over on the Queen Mary to Ellis Island a year later. To this union three children were born, Patricia, Bob and Susie. Johannah became a member of the United Methodist Church in Harris in 1954 and as a member she helped with Sunday School, Bible school and was a member of the United Methodist Women. She worked at Berkley and Company in Spirit Lake, IA for over 20 years. Some of her hobbies and interests included, going to yearly war bride picnics, playing cards, dancing and playing Wah Hoo. Her focus in her life were her children, grandchildren and great-grandchildren.
Johannah is survived by two children, Bob (Jane) Crist and Susie (Dan) Betz both of Harris; four grandchildren, Stephanie (Jeff) Sohn, Angie (Brian) Lenderts, Brent (Carrie) Crist and Mike (Tess) Betz; nine great-grandchildren, Bret and Brody Sohn, Haley, Anna and Claire Lenderts, Jude and Sara Betz, and Johannah and Kipton Crist; and many nieces, nephews and other extended family.
She was preceded in death by her parents, husband, siblings, and daughter, Patricia Crist.
For a complete obituary and online registry please visit: www.jurrensfuneralhome.com