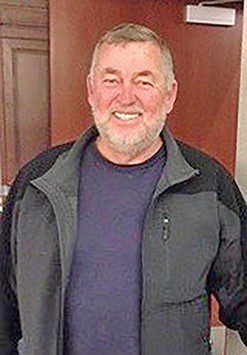 Hutch Pederson
June 23, 2018
Hutch Pederson walked with God Saturday June 23, 2018. A Celebration of Life Gathering will be held on July 13, 2018, from 4:00pm – 7:00pm, at InnSpiration Winery, 5079 180th Avenue, Linn Grove.
Hutch Pederson was born June 26, 1951, in Mason City, Iowa, the son of Robert and Emilia (Oakland) Pederson. He was raised and educated in Nora Springs, Iowa, where he graduated high school in 1969.
Hutch began his career in construction with North Iowa Construction in Clear Lake, as Construction Superintendent. He moved to Cornell in 1987 and began working for Ranco Fertiservice in Sioux Rapids, as a Crew Foreman. In 1995, Hutch started Cornell Trucking, Inc., delivering to all 48 states and logging 1 million miles. In 2005, he began working for Christian Bros. Excavating operating heavy equipment, he had a passion for playing in the dirt with big toys. In 2014, 2nd Chance Concrete would be his last business adventure. He completed his last coating job on June 3, 2018.
Hutch was united in marriage to Brenda Madsen on February 18, 2006, in Aruba. The couple made their home in Cornell, Iowa, with their two Yorkies, Dyna and Harli, until moving to Milford in 2015.
In his early years, Hutch enjoyed hunting, trap shooting, and prairie dog hunting in South Dakota. He enjoyed many trips to Western Colorado to hunt elk with his family. Later in life, Hutch enjoyed riding the open road on his Harley Davidson and cruising in his Corvette, and spending time in the boat on Okoboji Lake. He enjoyed traveling and seeing the country, with one of his favorite destinations Western Colorado to see his daughters, sons-in-law, and grandchildren. Hutch worked and played hard, always dreaming of the next project. He lived life to the fullest, never missing an opportunity to laugh and whistle slip him by. Oh the stories he had to tell…a truly legendary life and never a dull moment with this man. Cancer stole his body, but not his indomitable spirit. Regardless of the pain endured, he would have fun and find something to laugh about each day.
Hutch passed away Saturday, June 23, 2018, at Spencer Municipal Hospital, in Spencer, at sixty-six years of age.
He is survived by his wife, Brenda; daughters, Kristin (Max) Chesnik and Teresa (Eric) Neal; grandchildren, Luke, Louie, Rhett, Gunnar, Sackett, Dakota, Ty, Grey and Addison; and three great grandchildren. Also surviving are his brothers, Brian (Vicki) Pederson and Brad (Sue) Pederson; sister, Jane (Pat) O'Rourke; as well as many nieces, nephews, cousins, aunts and uncles, and countless close friends.
He was preceded in death by his parents, grandparents and special Aunt Marcie.
Turner Jenness Funeral Home was in charge of arrangements.