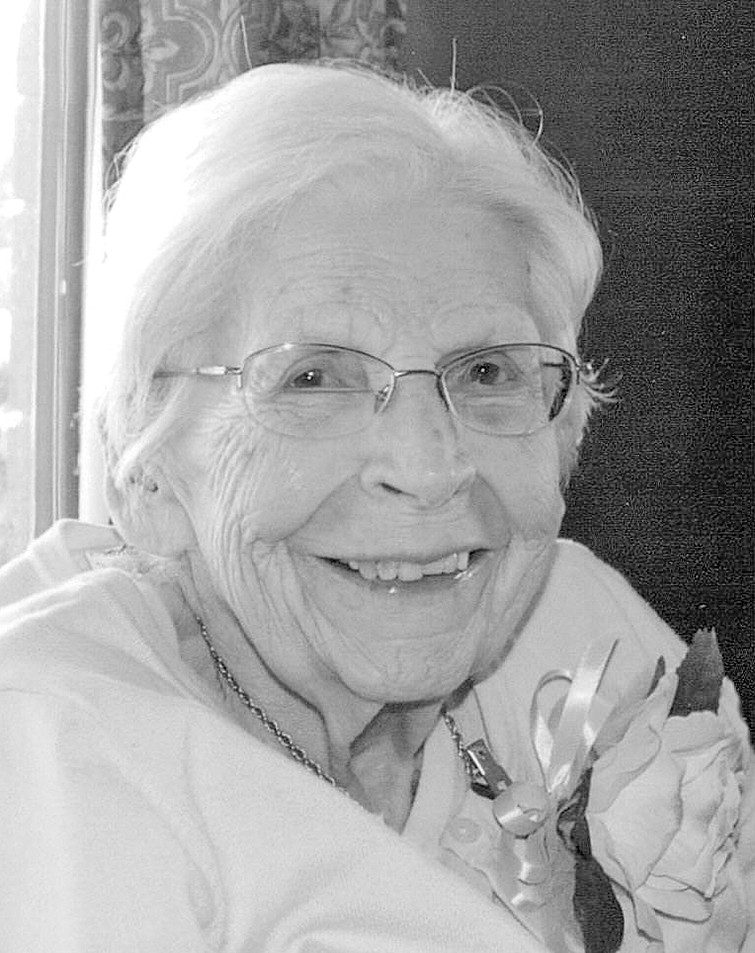 Edith Carolyn Woodke
September 16, 2019
Edith Carolyn Woodke, of Milford, Iowa, formerly of Early, Nemaha, and Sac City, IA, passed away on Monday, September 16, 2019, at the Accura Healthcare of Milford, at the age of 96. Carolyn Rutledge was born on July 3, 1923, to John and Beulah (Manly) Rutledge in Alberta, Canada. Carolyn's family lived in Bowden, Canada until 1929, York, Nebraska, for a year, and then moved to Early, Iowa, where she attended elementary and high school graduating in 1941. She continued her education at Morningside College in Sioux City for a year studying music.
Carolyn was united in marriage to Harold Eugene Woodke on July 29, 1942, at her parents home in Early. They made their home in Schaller and after Harold returned from serving in the military, moved to Early. They were blessed with five children: Marilyn, Carolyn, Mary, Doris, and Robert. She cherished her family and was a wonderful homemaker. She liked creating different crafts, and loved reading and quilting. Family gatherings and holidays brought her great happiness; cooking their favorite dishes and decorating for the holidays with her homemade crafts. She had also worked as a school aide and school bus driver. As a member of the United Methodist Church in Early and Nemaha, Edith served as a District Officer of the U.M.W. 
Harold and Carolyn lived in Early until 1967, when they moved to Nemaha. They ran a small grocery store in Nemaha for a short period of time. In 2008 they moved to Oak Terrace in Sac City. Carolyn spent her last seven years at Accura Health Care in Milford. She will be dearly missed by all who knew and loved her.
Survivors include her children: Marilyn Jean (Orville) Lewis of Terril, IA, Mary Margaret Sargent of Saint Robert, MO, Doris Elaine (Larry) Chalin of Delavan, MN, and Robert John Woodke (Dale Lemon) of Uniontown, PA; her ten grandchildren: Marshall (Kim) Lewis of Bennington, NE, Rhonda Stanley of Atlantic, IA, Matthew (Kiersten) Lewis of Fleming Island, FL, Jason Dreessen of Lawrenceville, GA, Wendy Sievers of Sac City, IA, Heather (Roger) Mahan of Lubbock, TX, Michael Shannon and fiancé Sarah Dimig of Nemaha, IA, Joseph Shannon (Tamra Friend) of Saint Robert, MO, John Woodke of Greenock, PA, and Maisie Woodke of Greenock, PA; 16 great-grandchildren; her sister Kathryn M. Carlson of Lincoln, NE; and many nieces, nephews, and extended family members.
Carolyn was preceded in death by her parents John and Beulah Rutledge; husband Harold Woodke; infant daughter Carolyn H. Woodke; and two brothers: Robert and Perry Rutledge.
Memorials may be directed to Lakes Regional Hospice or the Accura Healthcare of Milford.
A memorial service for Carolyn will be held at 2:30pm, at the United Methodist Church in Nemaha on Saturday, October 5, 2019, with Pastor Laurel Westerkamp officiating. A private family internment will be at the Early Union Cemetery prior to the service. Farber & Otteman Funeral Home of Sac City is handling the arrangements.