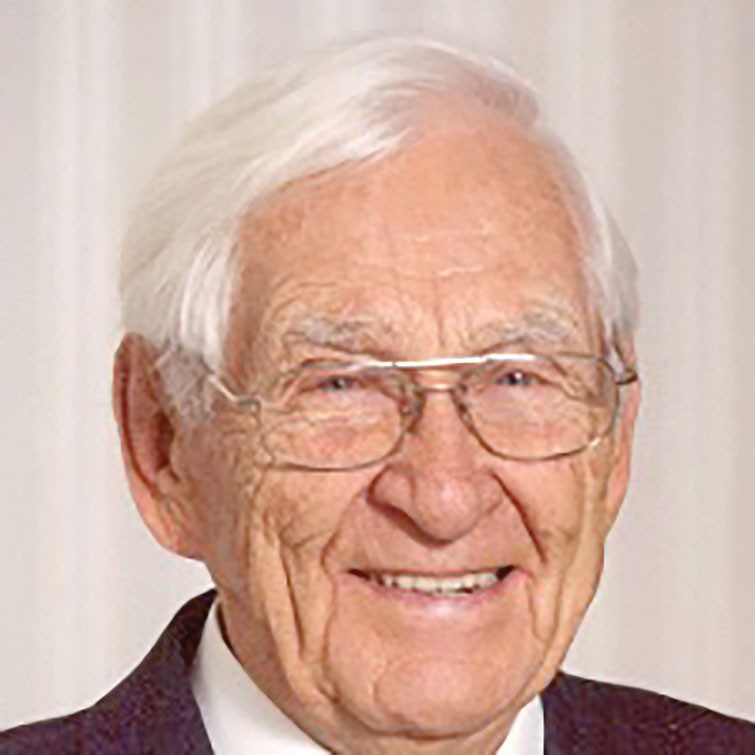 Claude F. Hone
August 27, 2019
Claude F. Hone, well-known Sioux Falls Realtor, and long time West Okoboji Harbor resident, died Tuesday, August 27, at the age of 99 and almost 7 months. He was one of the first Harbor residents in 1973 when there was only one canal open and not many houses. His wife Julie made him buy the house as she thought he would work himself to death. It was not uncommon for him to work 70-80 plus hours a week to support his little family. It did not really work to slow him down, but he loved, loved, loved, being at the lake. After his wife died in 2012, he put the lake house up for sale but started having so much fun with Glenn Henriksen and at Rock the Roof, that he took it off the market. It is still not for sale. Since then, for the first time in his life, at age 98 1/2, we spent all summer at the lake. He was in Heaven doing that.
On June 6, getting ready to come to Sioux Falls and Lake Okoboji from St.Paul for several months to golf and dance at Rock the Roof and play at his lake home, he fell and hit his head. He was well loved wherever he hung his hat. Okoboji/Spirit Lake was one of those places. He was unable to recover from this head injury which produced a cascade of events that ended his life. He died in his own bed in his own home that he loved in Sioux Falls. His funeral service will be at 2pm on September 13, 2019. After the service, at the funeral home, the post service reception will be celebrating his 100th birthday complete with 100 candles on his cake. Come and sing Happy Birthday with us. The funeral will be at Boom Funeral Home at 3408 East 10th Street in Sioux Falls, South Dakota.
Claude F. Hone, son of William and Jennifer (Boom) Hone, was born at home on February 5, 1920 in Alcester, South Dakota. As a child he moved with his family to Sioux Falls, SD where he attended grade school and graduated from Washington High School in 1938. Claude then attended Nettleton Commercial College in Sioux Falls from 1939 to 1940 before working in the office at John Morrell & Company.
Claude enlisted in the U.S. Marine Corps on November 12, 1941, just before Pearl Harbor because he wanted to stop Hitler who was invading France. From an enlisted man, he rose in the ranks to become a Marine fighter pilot aboard the aircraft carrier USS Wasp. Claude flew the gull-winged Corsair and saw combat action supporting the invasions of Guam, Saipan, Iwo Jima and Okinawa. He was also one of the first 8 Marines to attack and strafe the Tokyo airfield and only one of four survivors. (Go to "old guys and their airplanes" and click on Claude Hone to see him talking about WWII and his experiences in the Marines.) While still serving, Claude was united in marriage to the love of his life, Julie (Ethel) Schneider on July 14, 1945, in Daytona Beach, Florida. Following his honorable discharge on January 8, 1946, the couple made their home in Sioux Falls.  In 1946  and 1947, Claude flew the p-51 Mustang fighter plane with Joe Foss in the South Dakota Air National Guard, putting on many air shows for the surrounding towns. His automobile license plate, TOP GUN, honored his time as a fighter pilot in the Marines.
As the holder of Real Estate Salesman's license #1, the first license issued in the State of South Dakota, Claude pursued a career in real estate for over 60 years. He was past-president of the Sioux Falls Board of Realtors as well as past-state president and past regional vice-president of the National Association of Realtors.
Claude was active at the YMCA since he was seven years old and had been a strong supporter of YMCA youth programs ever since. He and Julie also gave generously to the Children's Inn and the Alpha Center. Claude was a member of the Downtown Lions Club and a life-member of the American Legion. An avid golfer, he was runner-up in the city golf championship twice along with having five holes-in-one. He still played early morning golf almost every morning well into his late nineties. Claude always walked the course because he said that that is why you were there, to get exercise. He always thought those golf carts should be banned except for special uses.
A proud Republican, Claude loved his country, his family, the Marine Corps and the work he did.
He was all about finding the right little house for the right little family for what they could afford.
He loved people. He not only served his country, but he fully served his community. He and Julie loved to dance both ballroom and polka which was required as Julie was full blooded Czech. The past few years he was often heard to say that he used to dance to I LOVE YOU TRULY but now with his daughter, Nancy, he was dancing to NOTHING BUT A HOUND DOG and GREAT BALLS OF FIRE for many hours at a time.
Grateful for having shared his life are two daughters and their families. Nancy Hone and family of St. Paul, Minnesota, Cheryl Hawker of Charleston, Illinois, granddaughter Morgan Hawker and family of Louisville, Kentucky, grandson Jordon Hawker of California; Morgan's children,Theo and Calvin Racque and cousin Will and Mary Lou Schuck of Texas, as well as  many friends wherever he went. His poodle, Busy Buddy and cat, Penelope, are lost without him as he loved them very much providing much comfort to him. We will all miss his warm smile, twinkling blue eyes, his hearty laugh, his caring ways, his smart and honest business practices, his wisdom, his positive mental attitude and his huge sense of adventure.
Claude was preceded in death by his wife of almost 67 years, Julie; his parents, William and  Jennifer Hone, and a brother, Ned Hone.
In lieu of flowers, please consider a donation in memory of Claude to the YMCA Leif Ericson Day Camp in Sioux Falls South Dakota.