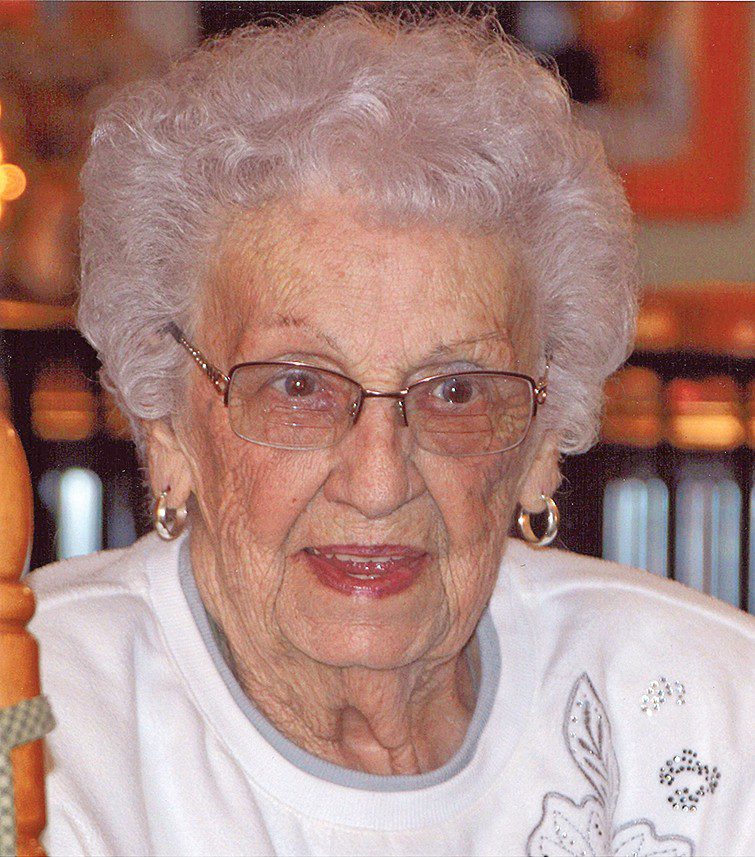 Betty Lou Willison
January 3, 2020
A funeral service for Betty Lou Willison of Milford was held Tuesday, January 7, 2020, at Faith Community Church in Milford. Burial was at Milford Cemetery. 
Betty Lou Wallace was born July 17, 1929, on the farm near Milford to Cecil and Mary (Moritz) Wallace. She was the youngest of five children. Betty attended several country schools through 8th grade, and in 1946 she graduated from Milford High School. After graduation she worked at the H.E. Jacobs store, waitressed at the Floete Mansion where her parents were caretakers, and then at the Fostoria Bank after she and Chuck got married.
Betty married Chuck Willison in August,1947. They made their home in Fostoria until they moved to a farm west of Milford. In 1951, they moved to a farm east of Milford where they continued farming and raised their family. 
Betty and Chuck's younger years were spent farming and raising their three children, Deb, Doug, and Dana. She worked side by side with Chuck, whether it was driving tractors, doing chores, or helping with whatever needed to be done. She also raised a huge garden, of which most was canned for eating during the winter, and being a terrific cook, there wasn't a family get-together that her raisin cream pie or potato salad wasn't fought over.
In her spare time, Betty was a talented seamstress. In addition to sewing all of Dana and Deb's clothing, she sewed her own, her mother's, and her grandmother's. So that nothing went to waste, the scraps were always sewn into quilts. In later years each of the grandbabies and great-grand babies, received a quilt from Gramma Betty. On top of that, she repurposed her hand crocheted pillow cases into decorative dolls and crocheted many quilts, table clothes, and beautiful doilies.
Chuck and Betty also enjoyed square dancing, league bowling in Terril, and playing cards with the Terril group. In the mid 1970s they started traveling south for the winter, and ended up in Florida for over thirty-five years. 
After raising her three children, Betty's greatest love in her life was being with her grandchildren. The answer was always "yes" if one (or all) of them wanted to stay overnight and bake cookies (of which there was usually more than one kind of cookie baked at a time). No matter what, the grandkids always knew that Gramma Betty loved them more than anything.
Having been retired for a few years, they moved into Milford in 2007, where they comfortably lived until Chuck's death in 2015, and health issues required Betty to become a resident at Accura Health Care Center in 2017.
Betty passed away peacefully on January 3, 2020, at the age of ninety. She was preceded in death by her husband, Chuck; her parents; three brothers, Dale, Glen, and Herb; one sister, Alta; and one son-in-law, Terry Olson.
She is survived by her three children, Deb (Terry) Olson of Terril, Doug Willison of Milford, and Dana (John) Metcalf of Dickens; five grandchildren, Robin Olson Brown, Shannon Olson Smith, Kelly Olson Pedersen, Heather Metcalf Johnson, and Adam Metcalf; ten-great grandchildren, and many other nieces, nephews, and friends.
Turner Jenness Funeral Home was in charge of arrangements.