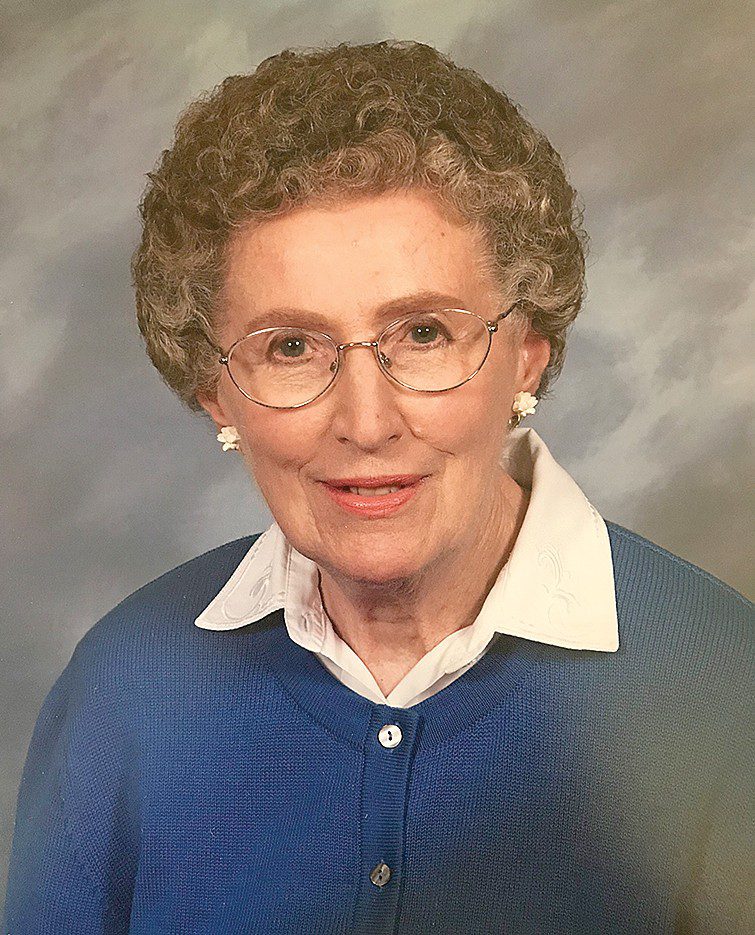 Betty Jean Bell
August 21, 2018
Betty Jean Bell died peacefully on August 21, 2018, in Ames, Iowa, surrounded by her family singing and reading her favorite scriptures. She was born November 5, 1926, to Ben L. and Anna C. Gallaher in Muscatine, IA. She graduated from Muscatine High School and attended Iowa State University.
Betty married Jim Bell at Muscatine on September 14, 1947. They lived in Alta; Austin, Minnesota; Iowa Falls; Lafayette, Indiana; and Ottumwa, before moving to Spirit Lake in 1967, and later Betty moved to Ames in 2010. They also lived in Taichung, Taiwan, for 3 years where Jim worked for Berkley Co. (now Pure Fishing).
Betty was an active volunteer in many areas. She served as President and long time treasurer of the Lakes Regional Healthcare Volunteers, 50 year member and past president of PEO, Circle Chairman and Librarian of Spirit Lake Presbyterian Church, played piano for singing at Care Centers and Adult Centers for over 40 years, delivered Meals on Wheels for many years and was an active participant in her children's activities as they were growing up.
Favorite pastimes were reading, needlework, riding her bicycle, taking walks, jig saw puzzles, feeding and watching birds and squirrels, tending her flower garden, and most especially, she enjoyed her family.
Survivors include: sons Tom (Cora Lea) Bell of Cumming; John Bell of Greenfield, Wisconsin; daughters Nancy (Jerry) Brouillette of Lake Park; Barb (Jeff) Brenner of Ames; 10 grandchildren Shane (Alissa) Mathews of N. Little Rock, Arkansas; Angela Mathews (Mike) Moore of Bryant, Arkansas; Caleb (Elizabeth) Mathews of Ankeny; Carey Bell of Grimes; Scott (Ellen) Bell of Runnells; Nicole Bell (Bryan) Schmidt of Ankeny; Katrina Bell (Zach) Moffatt of Wauwatosa, Wisconsin; Chad (Ryann) Brenner of Dayton, Ohio; Zach (Jenna) Brenner of Denison;  and Josh Brenner; 14 great-grandchildren; sisters Lorma Marcue of Davenport and Theresa Philben of Lynchburg, Virginia.
Betty was preceded in death by her husband, parents, brother, and one granddaughter.
Memorial service to be held on Sunday, September 2, 2018, at 3:00pm at Calvary United Methodist Church, 1403 24th Street, Ames, IA 50010.
Memorials should be directed to the family to be distributed to Betty's favorite charities. Adams Funeral Home is taking care of arrangements – www.adamssoderstrum.com.