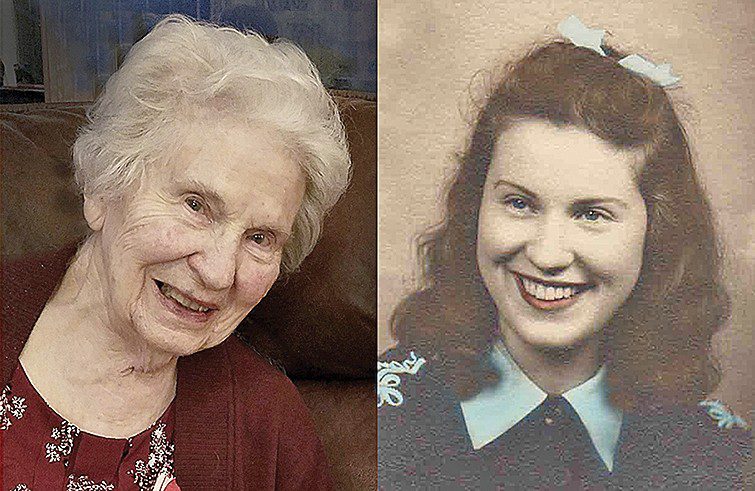 Bernice Lavon (Bridson) Lewis
April 10, 2019
Longtime Terril resident Bernice Lavon (Bridson) Lewis, age 93, died peacefully Wednesday, April 10, 2019, at Oak Terrace Assisted Living in North Mankato, Minnesota, after suffering a severe stroke Friday, April 5. Her sons were with her during those last days. 
Bernice was born March 28, 1926, near Spirit Lake. She was the daughter of Emmett and Florence (Tritle) Bridson. Bernice's mother wrote in a baby book that Bernice first smiled when she was a week old. She kept smiling throughout her life, despite living through such tragedies as the loss of a beloved daughter in 1987 and granddaughter in 2011. Bernice truly had a sunny disposition — she was upbeat and personable. She accepted and appreciated all types of people. She was kind, intelligent, responsible and humble. 
Bernice was raised in a loving family during the hard years of the Great Depression, and she was a young woman during the tumult of World War II. She graduated from Terril High School in 1943. Like many intrepid women during the war years, she joined the work force. Even before her high school years ended, she was working in the back shop of the Terril weekly newspaper, the Record. She learned layout and design skills — the graphic arts, as they were then called. She wrote and edited ads and stories. She typed fast and spelled well. And she ran complicated and sometimes dangerous machines that were difficult to master — printing contraptions such as a large hand-fed cylinder press and the Linotype typesetter, with its complex keyboard and sputtering pot of molten lead. 
Bernice worked for several newspapers and shoppers in northwest Iowa over the years, in particular the Spirit Lake Beacon, the Milford Mail and the Lakes News Shopper. She loved her work and her co-workers, particularly during her years at the Lakes News Shopper. She wouldn't fully retire until 1995 — and only then because macular degeneration had diminished her vision. 
In 1946, Bernice married James "Weldon" Lewis, and the two settled in Terril and raised three children. Bernice was a caring and loving mother. She enjoyed her children and their friends — she laughed with them and joyfully accepted their teasing. Bernice also remained a devoted daughter. She and Weldon, without complaint, managed the care of their aging parents in the Terril area from the 1970s into the 1990s. Bernice was a longtime member of the First United Methodist Church in Terril. She was also a member of the United Methodist Women, the Walsh American Legion Post 432 Auxiliary and other civic organizations. She was instrumental in the 1995 production of the Terril Centennial history book, "Our Ties to the Past." Bernice was always willing to pitch in and help others, as long as it didn't involve birds or swimming. She wasn't especially terrified of the two, but she didn't exactly embrace them, either.
In 2000, Bernice and Weldon moved to Minnesota. They lived at Old Main Retirement Village in Mankato until 2015, when they moved to Oak Terrace Assisted Living in North Mankato. The couple's marriage would last 70 years until Weldon's death at Oak Terrace in 2017. Bernice is survived by her sons and their spouses Jim (Cathy) of Coralville, Iowa, and Chuck (Roxy) of Mankato; son-in-law and spouse Larry Grootveld (Karen); four grandchildren; 11 great-grandchildren; two brothers and their spouses; a sister-in-law; and nieces, nephews and their children. She was preceded in death by her husband; her parents; her daughter, Barbara (Lewis) Grootveld; her granddaughter, Jennifer Lewis; her brother, Erwin Bridson; and other relatives and friends.
   Bernice's body was donated to the Mayo Clinic Department of Anatomy at Rochester, Minnesota. A memorial service will be arranged by the early summer at Terril. The Oak Terrace staff, the Mayo Clinic Hospice Care and the Mayo Department of Anatomy provided much aid and comfort to Bernice and her sons after her stroke. The family suggests that memorials be sent to Mayo at: Department of Development, Mayo Clinic, 200 First St. SW, Rochester, MN 55905. Mayo donations could also be made through the phone number 855-852-8129 (toll-free); through email at [email protected]; or through the web at https://www.mayoclinic.org/giving-to-mayo-clinic.