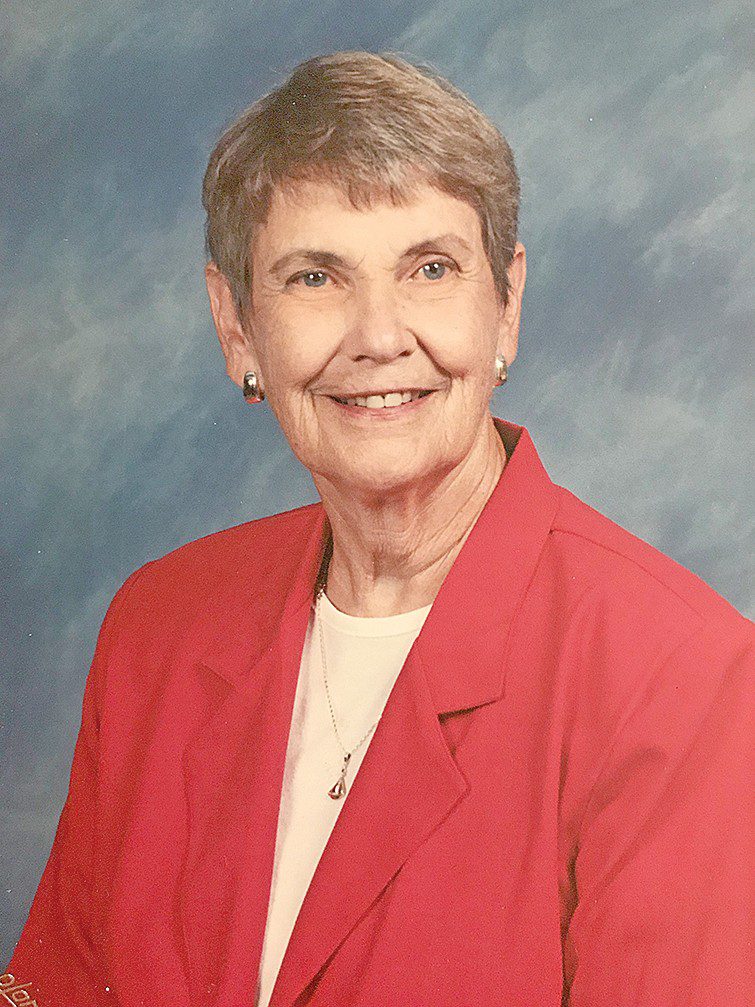 Barbara J. Tollefson
September 12, 2018
Barbara J. Tollefson passed away peacefully on September 12, 2018, following a long battle with pulmonary fibrosis.
Barbara Tollefson was born in Estherville, Iowa, on July 20, 1931. Her parents were Russell Oliver Peterson and Corinne Elizabeth Noel. She was the second of four daughters who were evenly spaced by 7 years. She spent her summers at the family cottage on the south shore of Big Spirit where she learned to swim and sail.  
After graduating from Estherville High School, Barbara went on to graduate from the University of Iowa with a degree in History. She was a member of Phi Beta Kappa and the Alpha Xi Delta sorority. After graduation, she taught in schools in Iowa and in Colorado. While in Colorado she met the love of her life, James Rand Tollefson, and agreed to marry him after just 4 dates! 
Barbara and Jim were married in Estherville and began their married life in Des Plaines, Illinois, where Jim worked as a CPA for Haskins and Sells. It was in Chicago that their three children were born – Laura, Jeff, and Sue. The family moved to New Jersey and then back to Spirit Lake, Iowa, where Barb lived for the next 49 years. 
Family was the most important part of Barb's life. She was kind, generous, and believed in the importance of "investing in memories," and she graciously provided her family with many opportunities to create those memories. Whether "dinks" with her two sisters, women's weekends with the ladies of the family, cruises for the entire family, or co-hosting an annual 4th of July pig roast in her backyard on the south shore of West Okoboji, Barbara loved creating and enjoying memorable experiences with family and friends. She traveled to 34 countries and always kept her sense of adventure. She was passionate about golf, bridge, canasta, travel, apple pie, and her grandkids. 
Barbara (or Grandma Boji as she was known to her grandchildren) is survived by her daughter, Laura (Scott) Bovard of Missoula, MT, and their children, Captain Andrew Bovard (Ashley), great granddaughters, Ella Grace and Torunn Elizabeth of Ft. Leonard Wood, MO, and Gillian Bovard, Boise, ID; son Jeff (Jennie) Tollefson of Eden Prairie, MN, and his children Joseph Tollefson, Chicago, IL, and Alex Tollefson, Denver, CO; daughter Sue (Steve) Hickerson of Overland Park, KS, and their children Katherine, Emily, and David Hickerson. 
She will be truly missed by her two sisters, Nancy Houchins and Nadine (Rick) Johnson of Arnolds Park, IA, and their children, grandchildren and great grandchildren. She joins her mother and father, sister Mary Jeanne Peterson, and husband Jim, in a better place.
Barbara celebrated life and family. She wanted no formal service, but there will be a celebration of her remarkable life on Saturday, October 20, from 4-6 p.m. at Arrowwood Resort in Okoboji, Iowa. Food, laughter and love will be in abundance. Memorials may be made in her honor to the Okoboji Foundation or the Okoboji Summer Theater.