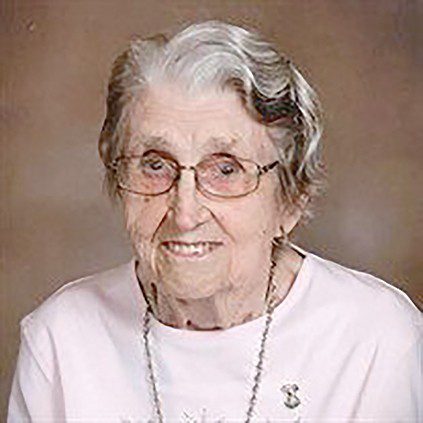 Anna (Ann) Katherine Dodge
February 9, 2019
A celebration of life church service for Anna (Ann) Katherine Dodge, 98, of Terril, will be Saturday April 13, 2019 at First Lutheran Church of Milford at 10:00.
Anna Katherine Dodge, the daughter of Amour and Katie (Seidel) Harris, was born near rural Dickens, Iowa on May 2, 1920. Ann joined an older sister and a brother. The Harris family farmed near the Dickens and Cornell area, and she graduated from Cornell in May, 1937.
On August 26, 1938, Ann married Donald Dodge of Terril. To this union four children were born-Marietta, Dennis, Marilyn, and Douglas. Ann and Don lived together 69 years in the Terril area where they were engaged in farming and selling seed corn and beans. Ann continued to live in Terril after the death of her husband Don in 2008.
Ann was a busy woman throughout her life with a lot of spunk, earning her the childhood nickname 'Punky.' Ann was busy on the farm raising a garden, raising chickens, cooking and taking lunch to those working in the fields, as well as working in the fields. Attending her family's events was high priority to Ann. Not only was Ann a big fan of her children's and grandchildren's events, she would often be volunteering. Ann was a 4-H leader, Farm Booster club member, Terril UMW leader, and a strong supporter of band and school booster clubs. Ann loved little children, so much that she taught Sunday School at the Terril Methodist Church for 42 years. She also taught Vacation Bible School. She became 'Grandma Dodge' to many of the children in the community. To her own grandchildren, Grandma was a great baker and often prepared special treats.
Ann and Don spent time camping, going to the county and state fairs, and fishing. They also made and sold handcrafts of dishtowels, quilts, and blankets at fairs. Ann never tired of meeting new people and visiting with old friends. After retiring from the craft shows Ann continued making more than 700 quilt tops for First Lutheran quilting group. Many a confirmand at First Lutheran received her crocheted stoles.
She passed away at Keelson Harbour on Saturday, February 9, 2019 at the age of 98. Preceding Ann in death were her parents, husband, son and daughter-in-law Dennis and Becky Dodge, son-in-law, Elwood Smith, sister and brother-in-law Leona and Vivian Hales, and brother Leonard (Bud) Harris.
Left to cherish Ann's memory are three children: Marietta Smith-Johnson of Spencer, Marilyn (Dale) Grabarczyk of Rochester, MN, and Douglas (Lynn) Dodge of Madrid, IA; ten grandchildren, Denese (Tom) Gable, Steven (Noreen) Smith, Lynese (Brian) Isom, Shannon (Jeff) Magner, Kris (Jim) Schobert, Cindi (Wade) Gronau, Cherilyn (Clint) Krichau, Kim (Greg) Captain, Jamie (Brian) Melody, Justin (Andrea) Dodge; 26 great-grandchildren; 16 great-great grandchildren; sister in law, Dorothy Harris; and many nieces and nephews. 
Turner Jenness Funeral Home was in charge of arrangements.